A month or so ago I found these cute shoes on Amazon (I did a Facebook post about them--I don't think I blogged here--but my apologies if you've seen these before).
That design and many others like them (they're all so cute/pretty!) are available via this page
on Amazon
.
Then today I found these instructions at
Rook No. 17
for taking a pair of ballet flats and using decoupage to decorate them.
As someone who pretty much only wears flats (okay, if I have to attend a wedding, I might wear a low heel), these look like fun. And, of course, I have one or two pairs of shoes that were a mistake buy (those "What was I thinking when I bought these?" shoes). They're great choices for a remake.
You can find decoupage paper and supplies at
Etsy
or in craft stores or many places on the internet. I haven't quite determined what makes decoupage paper different from other papers yet (weight? coating?), so if you know, I'd love to hear. And, of course, you don't have to use special paper. There are many choices for what you can use to decorate your decoupage project (magazines, old calendars, or, as noted in the video below, even candy wrappers).
There are, of course, decoupage shoes available on Etsy (mostly comic book designs):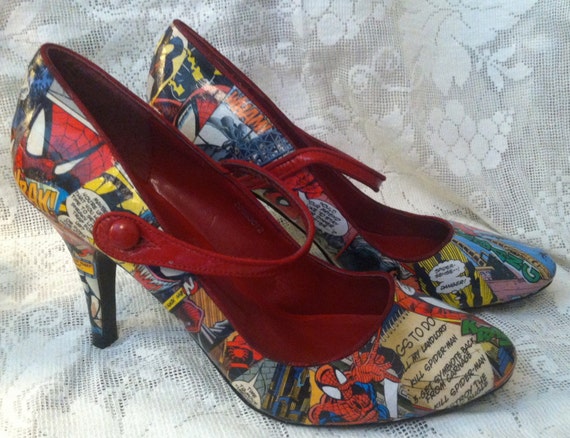 And, if you prefer video instructions for decoupaging shoes, reclaiming old, thrift store or just remaking less than attractive shoes, here you go!
Have fun!
Myrna