I think I've made it clear that I love crafts, but I'm a little lazy regarding crafts, I'm...time challenged (meaning that I'd love to be able to write and devote myself to crafting, too, but something has to give) and I also have limited crafting skills. So, anything that can be done easily and quickly and still turn out looking good wins points with me. If that something also ends up being useful, so much the better.
With that in mind, these little soap pouches couldn't be easier, and they're also incredibly economical, since you can make three out of one washcloth. I saw another tutorial where the instructor had made the pouches in coordinating colors, inserted a bar of soap in each and then tied a ribbon around 2 or 3 to make cute gifts. It was a longer video, however, so instead here's the easiest, quickest (and really easy to understand) video I could find.The actual tutorial portion begins at about 1:20 if you want to skip ahead to that. You'll need scissors, thread, a washcloth, a sewing machine, a ruler and a bar of soap (of course). (If you're having a problem, as mentioned in the comments below, and you can't open the video,
here's the direct link to the tutorial on YouTube
. I can't figure out what the problem is, but we'll get something going one way or another).
Here's what they look like if you want to purchase them rather than sewing your own. These are from Amazon (available
here
), and they do have cute little strings to hang them by. That's a nice touch.
Here are some colorful ones on Etsy, available
here
: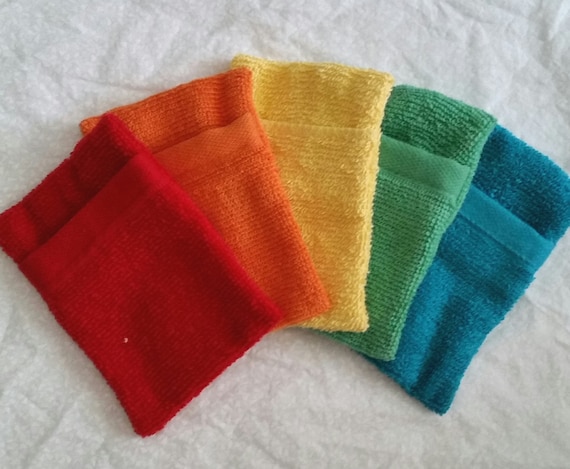 And, if you prefer written instructions, here's a blog entry from
Being Inspired
which incorporated a cute bit of ribbon trim and a ribbon loop to hang the pouch by.
Have fun!
Best Wishes,
Myrna